Dios acquiert la propriété Lac LeCaron lithium à la baie James
MONTRÉAL QC CANADA- Dios Exploration Inc. (Dios) acquiert avec plaisir la propriété Lac LeCaron lithium dans un secteur au fort potentiel en lithium à la Baie James/ Eeyou  -Istchee, au centre du Québec.  Ces 57nouveaux claims détenus à part entière couvrent 3 000 hectares (30 km carrés), au nord du Lac LeCaron à environ 15 km au NNE de la centrale hydroélectrique de Eastmain-1.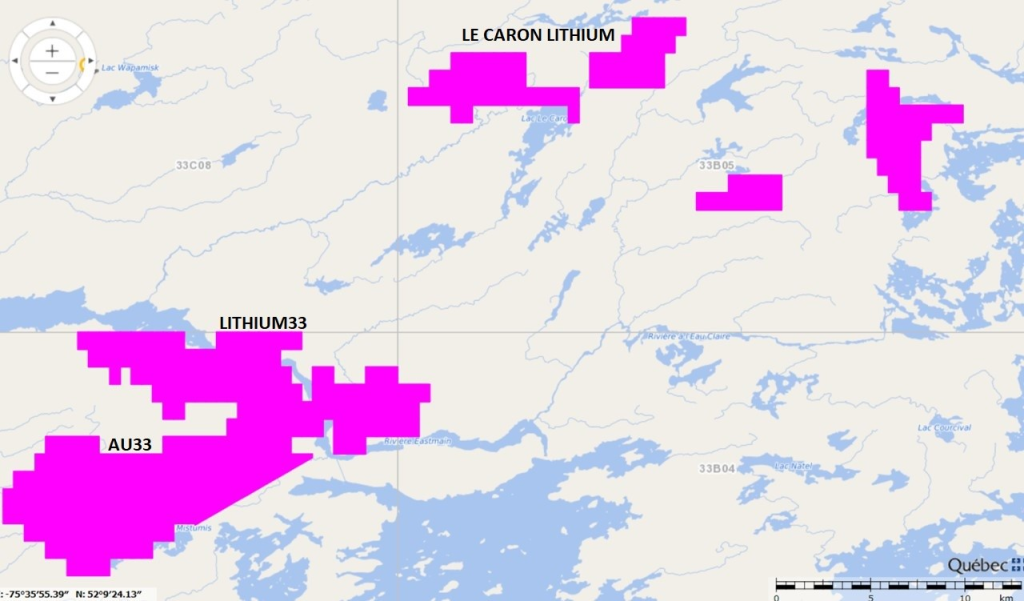 Poches, lentilles et dykes de pegmatites 
Les claims Lac LeCaron lithium couvrent une section prospective E-O de 12km de long renfermant un pluton pegmatitique de granite/granodiorite avec poches, lentilles et 5-30% de dykes de pegmatites bordant une bande NE de métasédiments et volcanites.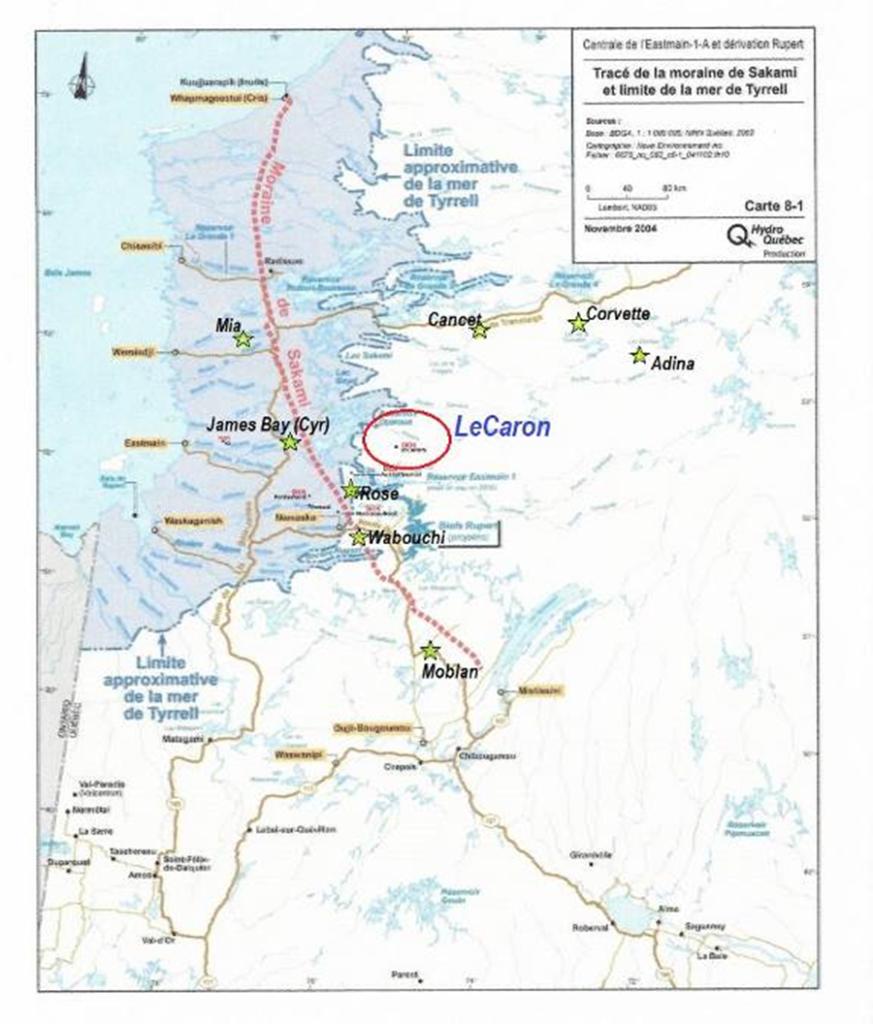 Présence de lithium dans 2 types d'environnement secondaire
La propriété est centrée sur un groupe d'anomalies de lithium métal dans les sédiments de lacs (10.5>Li>8ppm) combinées à des tills anomaux de 27.4, 27.9 & 29.5 ppm Li dans la fraction minéraux lourds. D'autres éléments-critiques anomaux (césium plus de 2ppm, jusqu'à 5ppm) sont présents dans les sédiments de lacs. 
Les claims sont aussi situés au voisinage de plusieurs linéaments magnétiques E-O & ONO recoupant le patron régional NE-SO.
La signature géochimique se compare au dépôt Pivert-Rose et à Pontax-Lithium. Ce dernier (essaims de dykes de pegmatites riches en lithium-tantale) fut découvert et foré avec succès par le partenariat Dios/ Ressources Sirios sous la supervision de H. Desbiens Géo M.Sc., V.P. de Dios et personne qualifiée selon la norme 43-101, qui a rédigé ce communiqué.  
ERIC LEMIEUX, MINING & EXPLORATION ANALYSIS
Dios Exploration Inc. reported on February 16, 2023 that it has acquired the Lac LeCaron  lithium project within Eeyou Istchee James Bay prolific lithium region of central Québec.  The new acreage totals some 57 claims for 3000ha north of LeCaron Lake, ~12 km NNE of  Eastmain-1 powerhouse and facilities. It is located within LaGrande geological subprovince, 15km  from Opinaca subprovince boundary.The Lac LeCaron acreage is located north of Dios' Lithium33  and Au33 properties and Critical Elements Lithium Corp. (CRE-V) property hosting advanced  Pivert-Rose lithium and tantalum deposit (https://www.cecorp.ca/en/) and further south the Nemaska lithium deposit (Wabouchi) located near Nemiscau. Sayona's Moblan project is located  further south on the Route du Nord (see: https://www.linkedin.com/pulse/sayona-mining-limitedsya-asx-otcsyaxf-reports-new-lithium-lemieux/).  
Potentially well located: The LeCaron lithium claims occur along a cluster of lithium metal lake  sediment anomalies (Li values between 8 and 10.5 ppm in the James Bay secondary environment)  combined with anomalous proprietary Dios' sampled glacial tills of 27.4, 27.9 & 29.5 ppm Li in  heavy mineral fraction. Other anomalous critical elements (such as cesium over 2ppm, up to 5ppm)  were also observed in lake sediments.  
The 100%-owned Lac LeCaron lithium claims cover a 12km-long prospective E-W section hosting  a pegmatitic pluton (granite/granodiorite) with pegmatite pockets and dykes (5-30%) at the margins  of a NE meta-sedimentary and volcanic rock belt.  
The claims are also located in the vicinities of several magnetic E-W and WNW magnetitic features  cutting through the general NE-SW magnetic trend.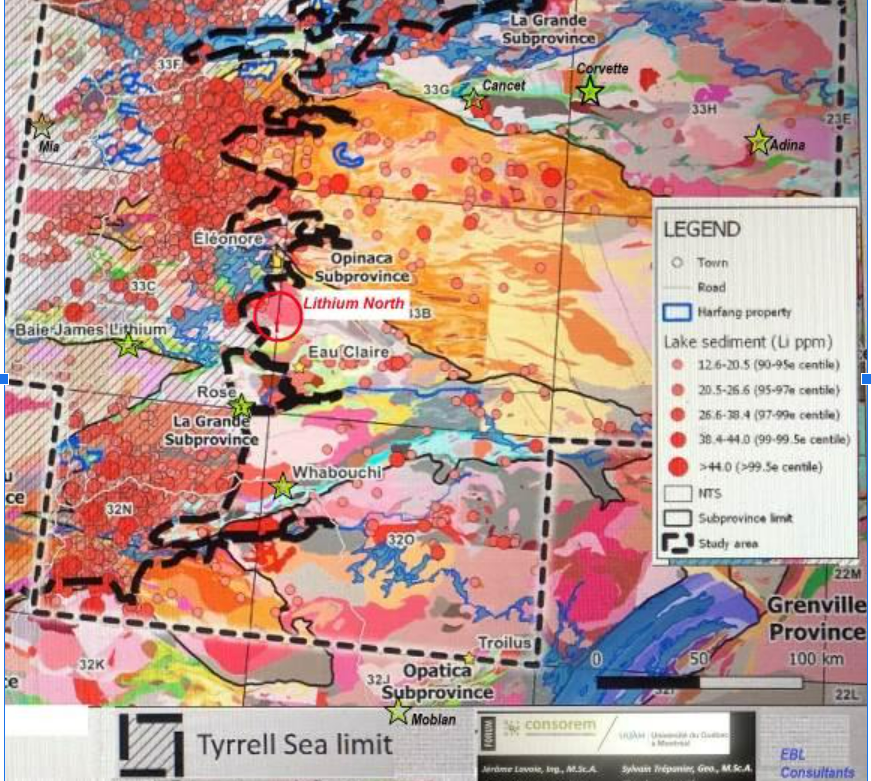 See end of: https://www.linkedin.com/pulse/dios-exploration-inc-dos-v-doubles-size-its lithium33-eric-lemieux
Éric Lemieux, MSc, P.Geo • Mining & Exploration Analytics  February 16, 2023 
https://www.diosexplo.com/en/2023/02/02/dios-au33-lithium-property-pegmatites-james-bay quebec/